3 April 2017
Stanislav Skrypnyk delivered a speech at the Second Forum on Restructuring and Bankruptcy, March 29
On March 29, Stanislav Skrypnyk – Executive Partner of Lavrynovych & Partners Law Firm – shared his expert opinion on the recognition of transactions as invalid at the Second Forum on Restructuring and Bankruptcy organized by the Yuridicheskaya Practika Publishing House. The event was attended by nearly 250 guests, including judges, arbitration managers, lawyers, and representatives of the business community.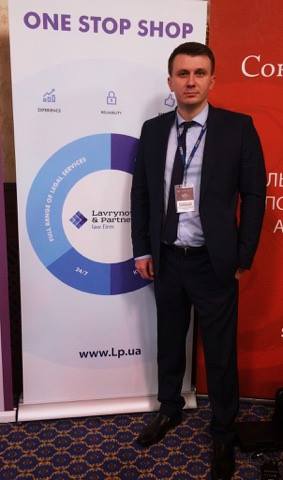 During his speech, Stanislav reported to the audience on recent trends in the practice of the Supreme Economic Court and the Supreme Court of Ukraine in the enforcement of the provisions of the legislation on restoring the debtor's solvency or declaring him bankrupt. In particular, Stanislav paid attention to the peculiarities of recognizing transactions invalid, which were concluded with the debtor's involvement in the so-called "suspicious period", that is, immediately after bankruptcy proceedings were initiated or within one year preceding their violation.
Stanislav Skrypnyk also noted that applications as for challenging the debtor's transactions are accepted and considered by the court only within a bankruptcy case, both with application of common grounds (as defined by the Civil Code of Ukraine) and special ones (determined by the Bankruptcy Law). The purpose of the court's consideration of the recognition a debtor's transaction as invalid should be the protection of the interests of creditors, that is, the return of transaction parties to the previous state and as a result, the property, whereof a debtor lost possession due to invalid transaction in the "suspicious period", is transferred to the liquidation mass.
For many years, respectful publications and ratings recognize the contribution of Stanislav Skripnik to the development of jurisprudence, in particular in the directory "Ukrainian Law Firms: a Handbook for Foreign Clients 2016" the Executive Partner of Lavrynovych & Partners Law Firm was noted as a leading expert in the field of "Litigation" And "Bankruptcy".