12 April 2018
The Legal 500 Europe, Middle East & Africa 2018
Lavrynovych & Partners Law Firm is once again recognized the leading law firm of Ukraine by the results of the international research The Legal 500 Europe, Middle East & Africa 2018.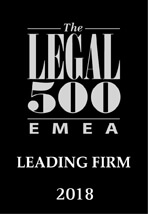 Our professional achievements in banking and finance law and capital markets, commercial and corporate law and M&A as well as in dispute resolution have been highly recognized.
Managing partner Maksym Lavrynovych, Executive Partner Stanislav Skrypnyk, Associate Partner Dmytro Savchuk were recommended by The Legal 500 as one of the best lawyers in Ukraine.
Lavrynovych & Partners Law Firm was founded in 2004. The firm brings together experts in Ukraine and Austria and annually receives recognition of Ukrainian and foreign professional ratings.